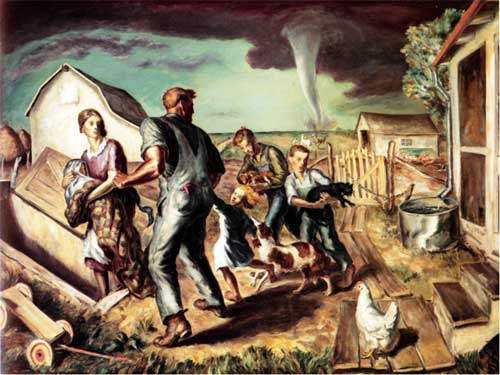 The peaceful sound of the rain last night woke me up before 4 am, and after a while I gave up and settled down in front of the computer. I checked the live web cam at the Santa Anita track, and it looked pretty bleak. Not a horse in sight. They've been having terrible problems with their synthetic track which doesn't drain right, and signifigant big races set for tomorrow. Then I thought I'd check the local radio news site.
They were reporting TORNADOES in L.A.! Wooey, as a child in New Jersey I tormented myself with fears of tidal waves and tornados, both of which were unlikely. This painting, titled "Tornados Over Kansas" by J. Steuart Curry, was in the World Book Encyclopedia. I was a bit obsessed with this painting, daring myself to look at it, loving and hating it both. "I'll just look really quick and then I'll close it."
J. Steuart Curry is the forgotten man of Midwestern Regional painters of the thirties, regarded behind Grant Wood and Thomas Hart Benton. But it's an awfully good painting, don't you think? Just hope they get that chicken in the basement too.