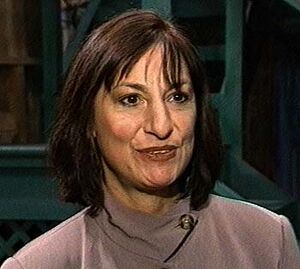 I just learned last night that Arelene Sherman died. She was a wonderful producer at Children's Television Workshop. She's the person who was responsible for so many independent animators
getting a chance to do animated pieces for Sesame Street.
Not a good picure but the only one I could find on the web. She was always laughing when I met her.
I don't understand why there's no news on this via google. I would like to write more about her past, but I only met her twice, even though we worked together for almost ten years.
She gave animators so much freedom. In my case I'd get sent a demo song, sung by the composer. I'd submit storyboards, get them approved, receive a final track, animate a pencil version of that, get approval, then go on to the final inked and painted version.
She was in New York, and I was in California. She rarely wanted anything changed. If only there had been more animation producers like Arelene Sherman.
I know she started out as an editor, and was married to a jazz musician. She had lots of connections in the New York jazz world, which must be how she got Betty Carter to record
"From Your Head"
and I got a chance to animate it.
Thanks for all you did for independent animation, Arlene. You'll be missed.